Description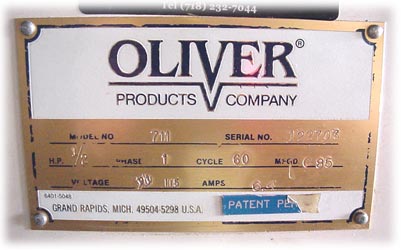 Countertop Bread Slicer - Oliver 711 - USED
---
Compact design saves floor and counter space.
Slices hard crusted breads and soft-textured sandwich loaves with ease and presicion.
Convenient, front-mounted push button controls.
Easily replaceable, independently mounted blades. Rust and corrosion resistant.
Smooth and quiet operation with minimal vibration.
Front-mounted bagging scoop for convenient packaging.
Slicer specifications:
Motor: 1/2 hp., single phase, 60 Hz, 115VAC, 6.5 amps.
Special electrics also available.
Capacities: 16" (406mm) long x 5 1/2" (140mm)wide x 5 1/2" (140mm) to high (Lower and wider products may also be sliced if care is exercised.
Slicing Spacing (Thickness): Standard: 3/8"(10 mm), 7/16" (11 mm), or 1/2" (13 mm)
Dimensions:
Shipping Weight" 300lbs (135kg)
Net Weight: 230lbs. (104 kg)
Height:21" (533mm)
Width: 23" (584mm);with hand lever:
26 1/2" (673mm)
Depth: 28 3/4" (730mm)