Description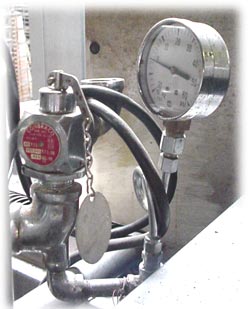 Description:
Kettle shall be a Groen Model TDB/10 quart stainless steel self-contained steam jacketed unit, operating from an electric heated steam source contained within the unit.
Construction:
Kettle shall be of 304 stainless steel, solid one-piece welded construction. The console and all exposed surfaces shall be stainless steel. Unit shall be furnished with a reinforced bar rim with a welded-in butterfly shaped pouring lip for pouring control and durability. The operating handle lug shall be on the right side. Compact steam generator and base gives unit an overall width of only 19 inches. Base designed for countertop, table or stand mounting. Faucet bracket is standard and mounted on the trunnion support.
Finish:
Interior of kettle shall be polished to a 180 emery grit finish. Exterior of kettle shall be finished to a bright high buff finish, ensuring maximum ease in cleaning and maintaining brilliant appearance.
Manufacture's factsheet is just a click away... (sheet from newer model)
J

Attention California Residents:

Prop 65 Warning