Description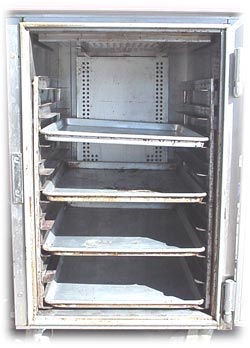 Save money with Carter-Hoffmann Cook and Hold Cabinets. They'll give you:
Increased Yields: Shrinkage is reduced to 7-10%, down from 25% in a standard convection oven.
Increased Product Quality: The gently convected air produced by our blower and duct system allows the meat to caramelize and retain moisture, cooking more consistently. Longer cooking times tenderize the meat.
Lower Energy Costs: Much lower BTUs than a standard convection oven. Plus, it allows food to be cooked overnight, at off-peak energy rates.
Lower Installation Costs: No vent is required in most areas.
Product Versatility: They're not just for roasts. Because they will reach temperatures of 320°F (160°C), a variety of items can be cooked, baked, or roasted.
Manufacture's factsheet is just a click away...
J

Attention California Residents:

Prop 65 Warning