Read All Reviews
10 colors: Black, Blue, Brown, Fleshtone, Green, Orange, Pink, Purple, Red, Yellow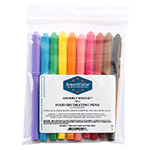 Not good for chocolate
I purchased these because they said they work on chocolate and I wanted them to help decorate a cake pop order. They don't work very well on chocolate, now i have to figure something else out! Very upset!
By
Tracy Roberts, IL
on May 28, 2019
americolor gourmet writer pens
I love these pens...they will be the only ones I use from now on...they last a long time compared to the others I have used...and I love the felt tip...not as fine as others but that's what I like about them!!!
By
Kate, michigan
on May 18, 2019
Great product
Was perfect for writing on cookies and outlining. Had an excellent point and colors are strong and vibrant
By
Honeybear62, New york
on August 5, 2018
VIBRANT COLORS! GREAT FOR COOKIE DECORATING DETAILING!
I love the vibrant colors applied on white Royal Icing. These are great for adding details to decorated cookies. Dries almost immediately.
By
karenb, TX
on January 6, 2017
Perfect for the Small Designs
We own/operate a retail bakery and these markers are great for tiny little details on fondant.
By
Christine, North Carolina
on July 27, 2016
Excellent
On time delivery and quality products.
By
Shamita, India
on September 12, 2015