Items - $0.00
|
Checkout
|
Help & Info
|
Log In
|
800-525-5556
free ground shipping on qualified orders over $75.00
Ravioli Rolling Pin, Overall 16.75"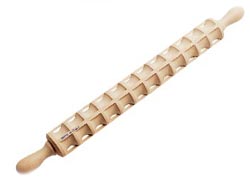 Enlarge Image
Item No. V513
Price: $7.95
Item status: In Stock
Availability: Ships in 1-2 business days
Free Shipping if total is more $75.00
Wooden ravioli pin to make small ravioli. Makes cuts of 1-1/8 inch x 3/4 inch. 10.25-inch-long barrel plus the handles. Overall size 16.75 inch. Barrel is 2 inch in diameter.
Average Customer Rating
3 stars - (1 reviews)





a MINI RAVIOLI ROLLER.. useless
I was disappointed to find that this was not a regular size ravioli portion but a tiny soup portion size ravioli roller.
Price was right, product was built to last, but I would not waste my time with the small size.
I like the bigger size ravioli
By
Sandra Luscombe, Massachusetts
on October 14, 2014
Average Customer Rating
3 stars - (1 reviews)