Gum Tragacanth, for Gumpaste and Pastillage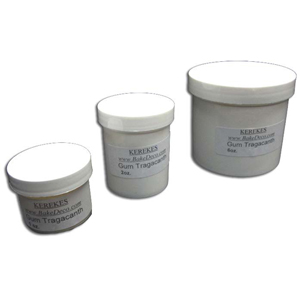 Enlarge Image

Following Sizes available
Item #
Sizes
Price
Quantity
CC500-1

1 Oz
$4.75

In Stock Ships in 1-2 business days

CC500-2

2 Oz
$9.25

In Stock Ships in 1-2 business days

CC500-4

4 Oz
$16.50

In Stock Ships in 1-2 business days

CC500-6

6 Oz
$23.75

In Stock Ships in 1-2 business days
Gum Tragacanth is a natural gum additive. Its only ingredient is dried gum exuded by the stem elements of Astragalus Gummifer. Used to make gum paste and pastillage, it provides strength and stretch to the treated product.



Average Customer Rating
4 stars - (1 reviews)





Gum Paste Powder Color
It's white as snow, which I was looking for.