Please note that, except in rare cases, Moline items are made when ordered and require three weeks from the order date before being ready to ship.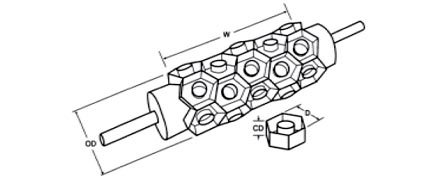 Pattern of hexagon donut cutter

Moline "Scrapless" Hexagon Donut Cutter for Machine Use
Moline's machine cutters are designed for use on sheeters and make-up tables manufactured by Moline, Rondo, Acme, LVO and others. Cutter patterns and shafts fit standard 22" and 24" wide belts.
The scrapless Hex Donut Cutter is used for cutting yeast-raised donuts. Tested and approved by bakers, it leaves only the center hole as scrap. Thanks to its scrapless design, the cutter delivers the maximum food product from a sheet of dough while minimizing the amount of scrap dough. Donut Cutters are furnished with a 1-1/8" center hole.
Today, the signature hexagon in Moline Machinery's company logo pays tribute to this original innovation that started Moline on the path to world leadership in rotary cutter design, manufacture and sales.
While Moline's rotary cutters are deceptively simple in their appearance (they seem to be little more than a lot of cookie cutters fastened to the outside of a metal rolling pin), these devices incorporate a surprising amount of technology and engineering. Precision machined to perfect concentricity for accurate, fast and efficient production with gentle dough handling. Designed for durability, easy sanitation and positive dough release. Precisely manufactured on CNC equipment out of 6061 aluminum material, these are durable cutters made for rigorous use in commercial bakeries. All cutter surfaces are FDA approved for food contact.
Rotary cutters offer an economical way for producers to add high-speed automated dough cutting to their manufacturing capabilities, and have enabled them to make products with unsurpassed consistency and uniformity of shape, size and weight. Rotary cutters have, for example, been essential to the development of the rapidly growing, frozen ready-to-bake cookie category. Like all frozen dough products, frozen cookies provide retail bakers with a convenient, highly economical way to produce freshly baked products on site without scaling, mixing, rolling, cutting or scrap.
The design of Moline rotary cutters is directly linked with such process variables as dough thickness, line speed, production rate, scrap ratio and dough shrink factor.
Moline has produced an extensive line of rotary cutters used by Moline customers all over the world in the manufacture of food products as diverse as donuts, cookies, tortillas, focaccia bread, biscuits, croissants and filled pastries.
Not qualified for free shipping