Description
Note: "Set" (indicated below) refers not to a set of cutters but to 2 sides of a single cutter. One side cuts along the length of your pan, the other side cutting along the width of your pan.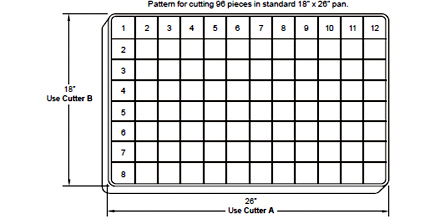 Moline Brownie Cutter / Cake Marker Set, for Efficient and Uniform Cutting of Brownies and Other Pan-Baked Products
Moline brownie cutters are designed for fast and easy cutting of brownies and other pan-baked goods with perfect uniformity and consistency. The cutters eliminate costly and cumbersome hand operations, increasing product volume and profitability.
Built to Moline's high standards of excellence, the cutters provide years of trouble-free service. Cutting blades are heavy duty stainless steel, providing durability and easy sanitation. Cutter surfaces are FDA approved for food contact.
The brownie cutter set consists of two cutting sides: one for the length and one for the width of the pan. The first cut is made with one side of the length cutter. The second cut is made by turning the cutter over. These operations are repeated for cross cutting, using the width cutting side.
From the lightest to the heaviest types of pan-baked products, uniform cuts of exact size and weight are easily controlled.
The cutter can cut a multitude of products other than brownies: nearly anything pan-baked, requiring cutting, can be adapted to their use.

Please note that, except in rare cases, Moline items are made when ordered and require three weeks from the order date before being ready to ship.
Specifications
Features
Material
Stainless steel
Shape
Rectangular
Certificate Label
NSF Listed
Yes