Frequently Bought Together
Description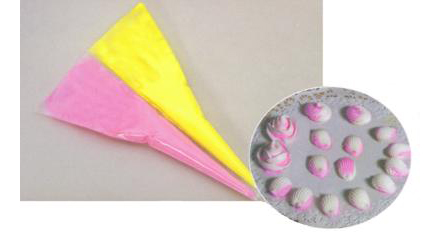 This two-color decorating-bag insert lets you make any decorating bag a striper bag. Pipe two different color icings through one tube. To use, insert a decorating tube into an Ateco reusable or disposable decorating bag. Use a coupler if you want to interchange similar size tubes. Fill half the striper bag insert with one color icing, the other half with a different color. Fill each half of the striper bag to the same level. Place the striper bag into the above Ateco bag with the tip already inserted, and decorate.
Made .0045" LLDPE.
Specifications
Features
Color
Yellow
Color
Pink
Use
Disposable
Dimensions and Weights
Length
18"
Reviews
Wonderful!
Perfect and exactly what I was looking for. I will say also, the service is wonderful. My order arrived in no time at all!
By
Kristi, North Dakota
on March 26, 2015