Description
This feature-packed leveler makes it easier than ever to create perfectly straight cake tops and layers. The ULTIMATE Cake Leveler does it all—safe, precise cutting, easy height adjustment and convenient storage
Twist-lock feet raise and lower blade with ease
Precision stainless steel blade for effortless cutting with fewer crumbs
Sliding sleeve locks handle securely
Ergonomic handle gives you more control when cutting
Blade has eight height positions for cutting delicate torted cakes and slicing off the cake crowns to make the top of your cake level
Ultimate Cake Leveler folds for easy storage.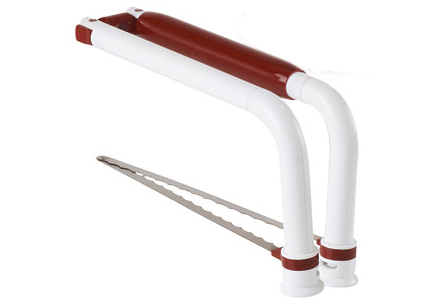 Specifications
Features
Blade Type
Serrated
Blade Material
Stainless steel
Dimensions and Weights
Size
Large
Reviews
very bad quality
the blade is too flexible and make the cut imposible. I waste my money on this product. Do not buy it please.
By
George Taverna, California
on January 23, 2020
Was usable
I was able to use the item for the intended purpose, my only complaint about it, is that the adjustable feet on the bottom are horribly attached. 1 of the feet broke off first time I tried to extend it down. But you can super glue it back on, and I used a Needle nose pliers to get the leg down far enough to use it.
By
LordSlasherVII, Nebraska
on October 21, 2016
To Flexible
This leveler is to flexible - both the handle and blade are very flexible making it impossible to make a consistent cut.
By
Kathryn Sue Warren, Arizona
on May 9, 2015