Description

Temperature resistance -40 to 446 F (-40 to 230 C). Overall size of this silicone mold is 7" x 6-3/4" (180x170mm). 12 cavities (3 each shape). Volume each cavity circa 6 ml, except for pocketbook, which is about 15 ml. Dimensions are roughly 22mm x 37mm x 12mm high for perfume bottle, 25mm x 32mm x 12mm high for ring, 31mm x 31mm x 12mm high for shoe, and 44mm x 40mm x 12mm high for pocketbook.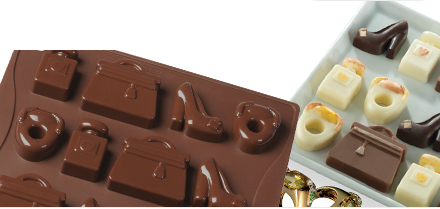 Flexible silicone thicker and firmer than standard silicone chocolate molds.
Specifications
Features
Material
Silicone
Cavities
12
Design
Fashion
Dimensions and Weights
Overall Size
7" x 6-3/4" (180x170mm)
Cavity Weight
6ml
Reviews
Cute
I managed to make colored items that look difficult and clever, but the perfume bottle top was easily broken on release, and the shoe was cracked. People ate them flawed and thought them fun.
By
Judykatrina, Colorado
on April 22, 2021