Flexible Silicone Bakeware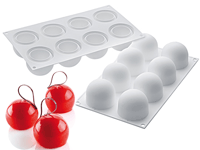 Flexible silicone bakeware has changed the way pastry chefs work. Check our top-notch silicone baking molds that don't need any grease, easily release dough and batter, and shape your pastries perfectly.
(31) Items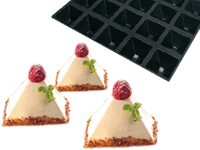 Silicone Bakeware, Cake Molds, Silicone Muffin Pans
(272) Items
Pavoflex Silicone Baking Molds
(93) Items
Silicone Bakeware, Baking Molds, Pastry Molds
(33) Items
Silicone Baking Molds, Baking Rings
(129) Items
Flexible Silicone Baking and Freezing Molds
(313) Items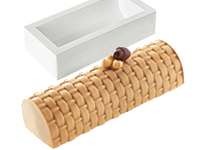 Silicone Baking Molds for Entremet Desserts
(76) Items
Flexible Silicone Molds for Sphere Shaped Desserts
(50) Items
Flexible, Non-stick, and Multiple Cavity Cylinder Silicone Molds
(39) Items
Decorative Silicone Molds for Ornamental Desserts
(55) Items
Flexible Silicone Bakeware Molds for Small Pastries and Desserts
(49) Items
Here at Bakedeco.com, our collection of baking molds and pans includes some of the best silicone bakeware you'll find. Silicone baking molds are widely used in professional cooking and baking; they offer more control over your recipe and are much easier to use than aluminum or stainless steel pans. Flexipan, Pavoni, Silikomart, and Demarle molds are just a few of the first-rate brands, carrying a massive variety of dessert molds and casts. Explore the never-ending possibilities for your pastries, using silicone mats, silicone pans, and mini silicone molds. Silicone bakeware is made of FDA-approved food-grade silicone, which gives the baking pans, sheets and molds the ultimate flexibility and signature non-stick quality. Cleaning is effortless, and silicone for baking also makes it possible to use molds two or three thousand times before the first signs of sticking. Select from large molds with multiple cavities for producing many miniature desserts, or larger decorative silicone molds which create gorgeous tarts, pies and cakes.