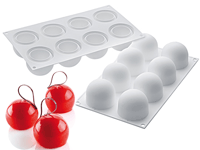 Silicone Baking Pans & Baking Molds are widely used in the industry, chefs and bakers choose these silicone pans over the hard material pans like Steel & Tin pans since this are much easier to use and the gives you more control while pouring the batter into those mods, wether you're making cupcake or mini cakes for a sale or any pary these Silicone Molds are the perfect. Top quality which will give you years to come great production.
Used by pastry and bakery chefs alike from the home baker to the most professional chef these Silicone Cake Molds are easy to use and easy to clean. Select from bigger molds like 96 cavities or a small pan with only 6 cavities.
Select from our top brands for silicone bake pans - Pavoni - Demarle - Matfer - De Buyer & Silikomart
Flexible silicone bakeware has changed the way that pastry chefs work. The non-stick silicone bakeware molds and trays do not have to be greased and will still unmold without breakage. Silicone bakeware is made of FDA approved food grade silicone, which allows the silicone bakeware to be flexible, and gives it its non stick quality. The combination also gives the molds a longer life, making it possible to use them two or three thousand times before the first signs of sticking. The ease of cleaning also makes this flexible silicon bakeware such a desirable utensil.